Optimize your flotation process
for the highest performance
Get more out of your precious metals and minerals with precise measurement.
In mines experiencing declining ore grades, flotation may be a critical process in mineral extraction. Achieving an optimal separation in any flotation cell however is a
complex task due to the many interconnected variables. The most important parameters are: Flow and density measurement of feedstock, froth height,
a precise determination of the froth and liquid slurry interface, liquid pH and Eh, dosing and quality of chemical reagents, froth bubble quality and air flow if used for agitation.
Your benefits
Ensure flotation of all minerals

Increase recovery rates and grade

Lower reagent costs

Prevent flooding and empty banks

Reduce gangue carry over
Froth Flotation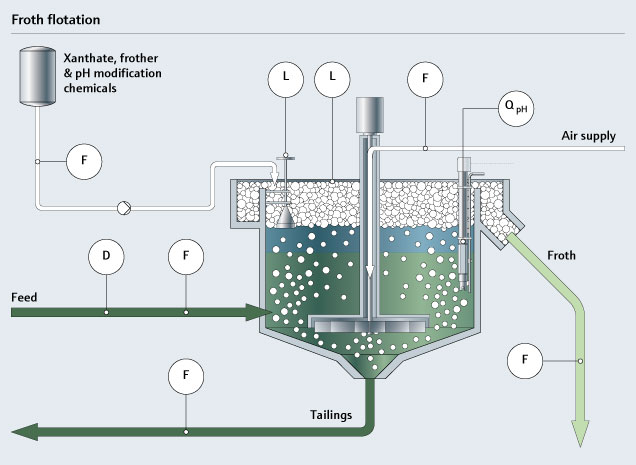 Flotation cell feedstock quality control
The mass flow of slurry in to the flotation cell and the pulp quality from the grinding circuit is most accurately measured in the pipe line using a combination of a radiometric
density meter and a electromagnetic flow meter with an abrasion resistant lining and erosion proof brush style measurement electrode. Advanced mathematical algorithms in the flow meter
transmitter can also calculate the dry solids content in the pulp which is an important parameter in metallurgical accounting.
Froth level and froth to pulp interface
The level of the froth and the froth/pulp interface are one of the key factors for the process. We recommend using a Prosonic interface measurement transmitter with two ultrasonic sensors if instruments can be installed at the top of the tank in combination with an XPSFloatTM system consisting of a PTFE coated conical float, a teflon rod and a target plate. One sensor measures the distance to the bubble surface and the second, the distance to the target plate, the difference is the foam height.
Chemical reagent dosing
The dry solids content and feed rate and the froth height can be used as a feed forward signal for the xanthate, frother and pH modification chemical dosing control loop.
A Promass I coriolis flow meter can input these parameters and enable very accurate dosing. And the unique Promass Heartbeat Technology enables operators to monitor the quality of the reagent with respect to viscosity, density and temperature in addition to any pipe line corrosion or sticky build up.
pH or Redox (ORB) measurement
One of the most important parameters is the pH value of the pulp which has to be maintained in a predefined range to assure optimal froth yield and quality.
ORP sensors measure the redox potential or Eh, which is useful to further optimize the process and ensure maximum flotation.
But measuring the slurry is challenging because of the abrasive nature of the suspended particles. Ideally, sensors should have a non glass rugged plastic design and a flat measurement membrane.
Air Injection
Air is injected into the flotation cells to agitate the contents of the tank. To measure the air stream Vortex is the best solution, as it offers high accuracy and a wide measuring range. In addition, Vortex instruments are resistant to plant vibration and air hammers
Contact
Endress+Hauser (S.E.A.) Pte Ltd
3A International Business Park
#07-08 ICON@IBP Tower A
609935 Singapore , Singapore
Send email
www.sg.endress.com
Related offering
Products
Solutions