Be the next Certified PROFIBUS DP/PA Engineer

A hands-on course, recognized in all industries
Hands-on exercises will help you learn how PROFIBUS fieldbus technology works in detail. The emphasis is on PROFIBUS PA for the process automation industry.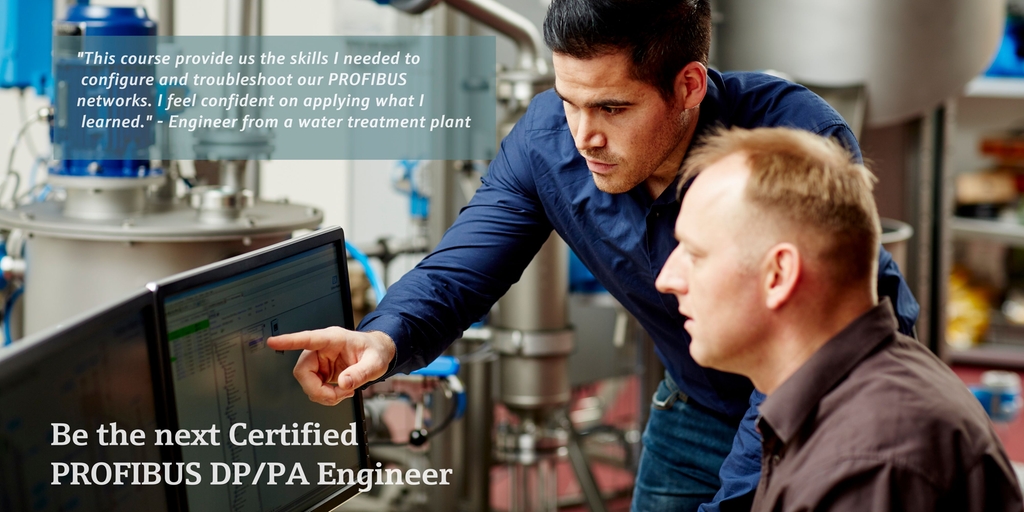 Content
The following content is covered in the theoretical part: PROFIBUS organization and structure, physical layer of PROFIBUS DP/PA, PROFIBUS components, device integration, diagnosis and status, parameters and configuration.

Token handling, cyclic and acyclic communication, FISCO and Ex concepts, cycle time calculation and bus parameters, identification and solving of communication problems.


PROFIBUS FDL (Fieldbus Data Link), function codes and service access points used in PROFIBUS DP, Token handling, FISCO and Ex concepts, cyclic and acyclic communication, cycle time calculation and bus parameters.

The following content is covered in the practical part: Wiring of a PA bus segment, commissioning with acyclic tools, cyclic communication and data handling, device Integration (ABB, Siemens, Rockwell, ...)


Signal measurement and evaluation with oscilloscope, handling of up-to-date bus analyzers, commissioning of demo plant, device replacement / troubleshooting.
Objectives
At the end of the course you will be able to design and commission a PROFIBUS fieldbus network. You will also understand the benefits of the technology and know the procedure for troubleshooting. The emphasis is placed on PROFIBUS PA.
Who should attend?
System Programmers

Control and Instrumentation Engineers

Design and Planning Engineers

Service and Maintenance Engineers, Installers
Prerequisites
Basic knowledge of computers, electronics and mathematics
Qualification
The training is internationally recognized and certified by the PROFIBUS organization
Evaluation methodology
Those who pass the written examination and practical test will gain a valuable and internationally recognised certificate as to their competence to design and trouble-shoot PROFIBUS networks. Graduates of the course will also have the right to have their name listed in the Certified PROFIBUS Engineer section of the PROFIBUS web site at www.profibus.com.
Type
A hands-on course, recognized in all industries.
Contact
Ms Salbiah Siraj

3A International Business Park
ICON@IBP Tower A
609935 Singapore, Singapore