Don't get stuck in the Stone Age!
If you're thinking about upgrading your plant, we'll show you how we can save you time and money!
We provide a wide range of MRO services from minor repairs and maintenance to complete overhauls.
Have one of our Endress+Hauser representatives contact you
The need to replace installed instrumentation because of failure, unreliability or unacceptably high maintenance can justify the cost of the replacement. The measurement may be critical to the quality, productivity or safety of a vital manufacturing process, and would typically qualify for expenditure under MRO.
We provide a wide range of MRO services, including replacing aging equipment and situation analysis to help you optimize your plant

Process indicators and components
Do you know Endress+Hauser also have process indicators and components?
Process meters with control unit
Process indicator with pump control
Product overview
System components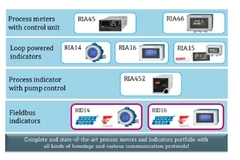 Contact
Endress+Hauser (S.E.A.) Pte Ltd

3A International Business Park
#07-08 ICON@IBP Tower A
609935 Singapore, Singapore